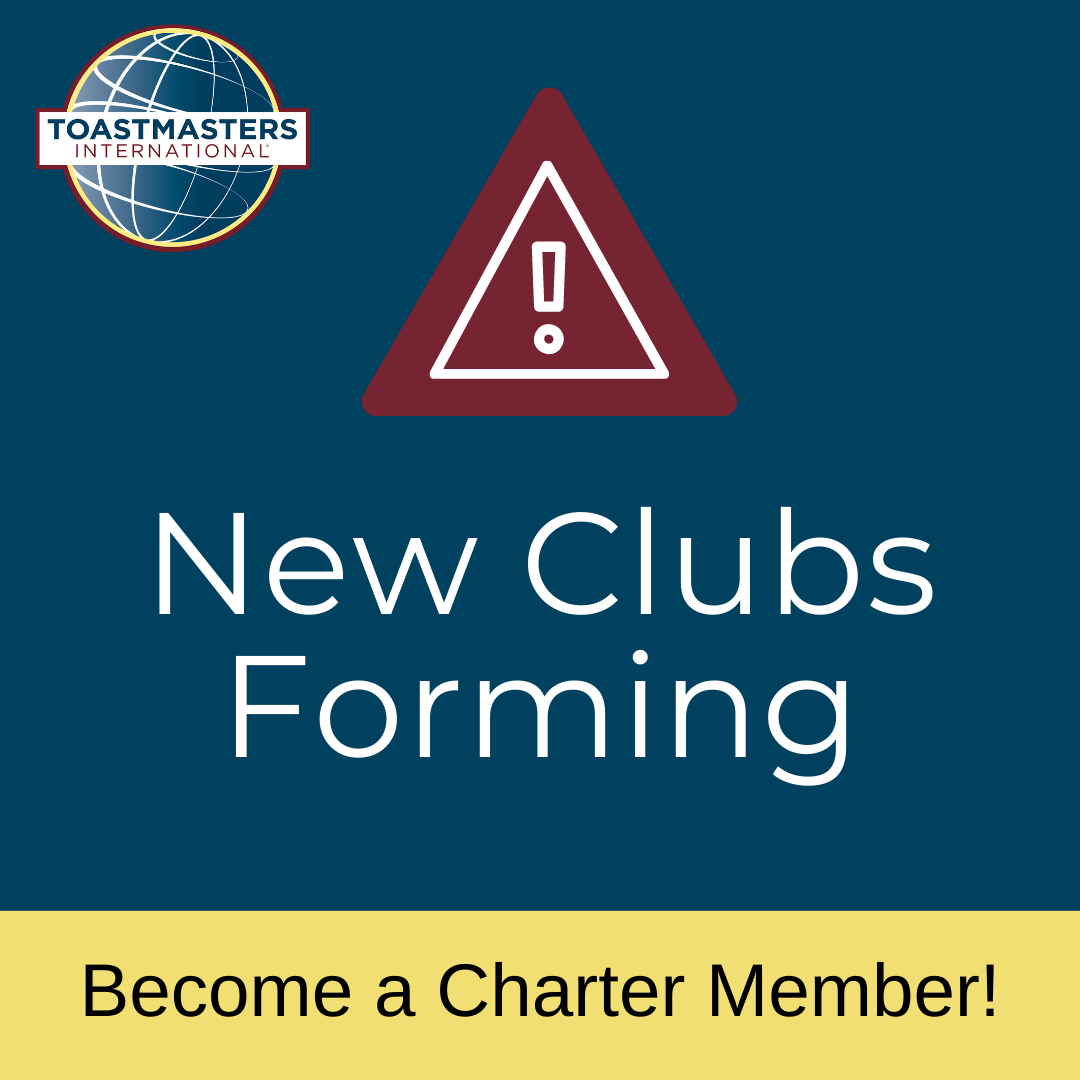 Do you want to become a charter member of a new club? It's an incredibly special opportunity to help build the club culture, have your name eternally listed on the charter, help pick a name and most importantly a time!
Founder's District has multiple new clubs forming:
Pastime Pursuits - Do you want to share your passion with others? Speeches and Table Topics will be dedicated to speaking about things we love the most in life. Get to know your fellow Toastmasters' favorite hobbies or perhaps their stretch goals. Contact

This email address is being protected from spambots. You need JavaScript enabled to view it.

,

This email address is being protected from spambots. You need JavaScript enabled to view it.

,

This email address is being protected from spambots. You need JavaScript enabled to view it.

or

This email address is being protected from spambots. You need JavaScript enabled to view it.

for more information.

Roses & Raises - Build your tribe of fellow Toastmasters to help you get not only the roses, but also the raises! Contact

This email address is being protected from spambots. You need JavaScript enabled to view it.

or

This email address is being protected from spambots. You need JavaScript enabled to view it.

for more information.

Spanish/English language club. Contact

This email address is being protected from spambots. You need JavaScript enabled to view it.

or

This email address is being protected from spambots. You need JavaScript enabled to view it.

for more information.

International Sommelier club. Contact

This email address is being protected from spambots. You need JavaScript enabled to view it.

or

This email address is being protected from spambots. You need JavaScript enabled to view it.

for more information.

Toastmasters After Dark. Contact

This email address is being protected from spambots. You need JavaScript enabled to view it.

or

This email address is being protected from spambots. You need JavaScript enabled to view it.

for more information.

SoCal English Mandarin Bilingual Toastmasters. If you're interested in joining a diverse English/Mandarin bilingual club to improve your language skills and further your personal growth, please contact

This email address is being protected from spambots. You need JavaScript enabled to view it.

or

This email address is being protected from spambots. You need JavaScript enabled to view it.

for more information.

The Bards' College - The art of crafting and performing speech that inspires action is a skill that can be learned and must be practiced! Level up your abilities to write, pitch, present, coach, lead and listen in a club focused on the game development community, but open to all. Regular keynotes from industry professionals will augment the experience. Contact

This email address is being protected from spambots. You need JavaScript enabled to view it.

for more information.
Chartering a new club is a rewarding learning experience. Be a part of the excitement in helping us grow Founder's District!